Cover letter formatting expectations have risen. Do you know how to write a cover letter in 2019?
As thousands of job seekers submit their applications to recruiters, 9/10 time this is what they're looking through.
This is the way the average cover letter used to be formatted.
A cover letter is the first impression an interviewer or recruiter will have of you, and it's time to face the truth.  This style of cover letter is boring and dated!  Presentation matters in every aspect of our daily lives and that includes your job application. Present a potential employer with something they can't help but notice. Shake up the status quo and stand out by creating a modern cover letter.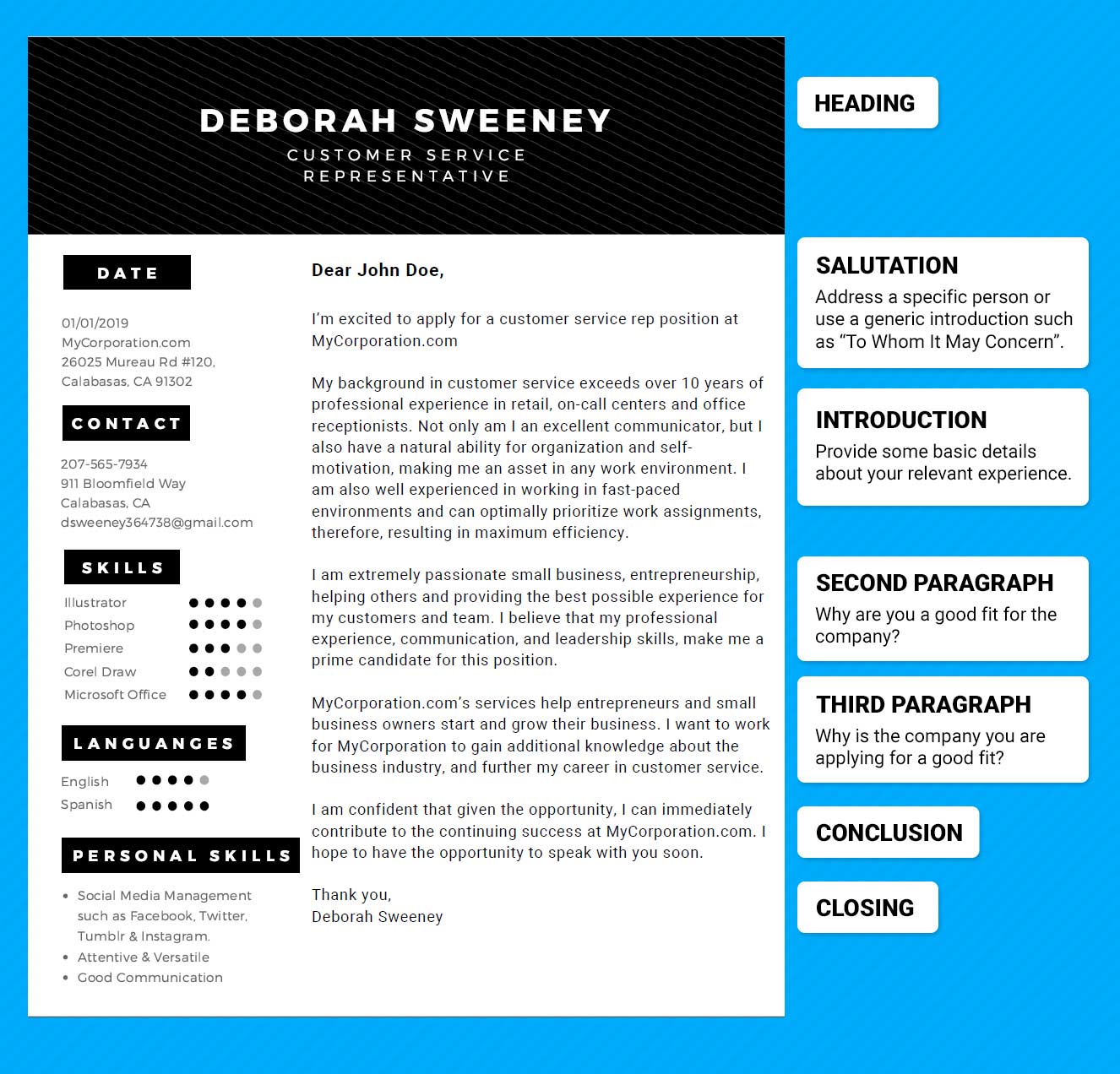 Before you click 'send' on your application you need to know cover letter fundamentals. Here's what recruiters are looking for:
How your professional experience and skills apply to the position
If you're passionate about the industry/job
If you're knowledgeable about the company
Why you're the perfect candidate
Completed all the above and still not having any luck in your job hunt? Well, maybe it's time to give your cover letter a makeover.
Here are a few tips to help your cover letter stand out.
1. Reorganize your header, contact information, and intro
Usually, the beginning of a cover letter includes an applicants contact information, header, and an introductory paragraph.
Contact info:
Phone number
Professional email
Header:
Date
Company name
Company address
Addressee
Addressee job title
Introduction:
Your name
Company name
The position you're applying for
Also, recruiters usually skim this entire section of the cover letter and focus on the body paragraph. It's your job to draw them back up to the top because that area is the most important for you.
This is where the recruiter sees your name for the first time.
Follow these guidelines and make your name memorable.
Place your name and the job position at the top of the page.
Make your name the largest font size on the page. Trust me, you'll be hard to forget.
In a smaller font, include your position.
Next, optimally use your space to include your header.
Finally, your introduction paragraph must stand out. Flex your creative writing muscles and start out a witty saying, humorous comment, what you're passionate about or a remarkable professional accomplishment.
Intro Examples:
Humerus/witty: Now that you've slept on it, it's time to reject everyone else and choose me! Still deciding? Well I'm about to close the deal. Just read on.
Passionate/company love: My first experience with entrepreneurship happened when I opened a lemonade stand. Early on, I experienced the benefits and hard work of entrepreneurship. MyCorporation not only believes in helping entrepreneurs start their business, but also helping businesses maintain and grow as well. My love for what our company stands for allows me to connect with our customers and relate to them through my personal and professional experience.
Professional accomplishment: Last year, I earned top sales woman of the year. And the year before that and the year before that. I'd like to see someone else try to knock me off my pedestal.
2. Insert a pop of color that fits your industry
Tech/Computer Science: Green, blue, grey, and yellow
Business: Blue, red, orange, and black
Fashion: Pink, purple, light blue,
If you think this step isn't necessary for your cover letter, think again. Scientists, marketers, and graphic designers understand the effect colors have on our attention spans, moods, and choices.
Bold colors such as red represent power while yellow represents danger. These colors naturally make us alert.
Blue often is calming and trustworthy while green is warm and inviting. Orange, on the other, hand radiates energy.
More feminine colors are acceptable too. Don't be afraid to include light pink or purple to market yourself as fun, friendly, and elegant,.
All the colors give you limitless options on how you want to represent yourself.
3. Be Repetitive

Yep. You read that correctly.
Yes, you are the best candidate and you have amazing skills. Repeating your skills in your cover letter can often be annoying, but if you do it in a clever way, you may just be able to get away with it.
Resumes often include a section for skills. So why shouldn't your cover letter.
Generally, when applicants describe their background, they waste space trying to jam all their skills into two sentences. Stop doing this.
Create a separate section for your skills.
This is a great way to reference your professional and personal skills!
And there's a bonus!
If recruiters are interested in your application, they won't have to waste time flipping back to your resume to see your skills. They'll already have everything they need!
Redesigning your cover letter is easier than you think. You don't need to be a graphic designer or marketer to make a great impression in 2019.
Online tools such as Canva, Stencil, and Adobe InDesign make it easy to design the perfect cover letter that will capture the attention of anyone who comes a cross it.